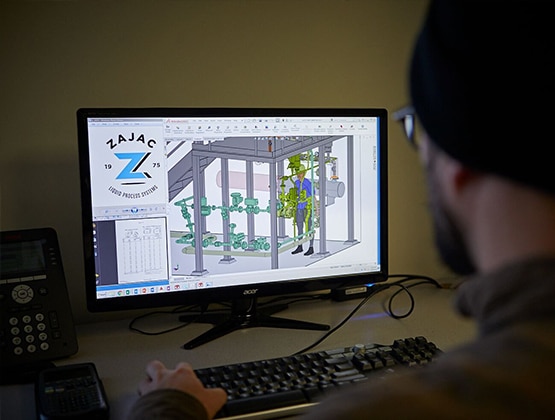 DESIGN
Zajac designers have years of experience working on projects and finding solutions in the pharmaceutical, food & beverage, brewery, dairy, and personal care industries.  As a result, our design team has developed a deep understanding of systems, components, and client maintenance needs, as well as fabrication techniques and capabilities.  From the receiving of your raw materials through processing, packaging, conveying, and storage, Zajac, LLC is your full-service design and engineering resource.
ENGINEERING / PROJECT MANAGEMENT
Process Engineering / Project Management – we have over 40 years experience designing high purity liquid processing systems and supporting utilities. We specialize in heat treatment, blending, filtration, purification, CIP integration and mixproof valve applications.
As a turn-key integrator, our engineers and project management team have worked in plants for many years and know the expectations of today's processing facilities. We look forward to helping you with your next project.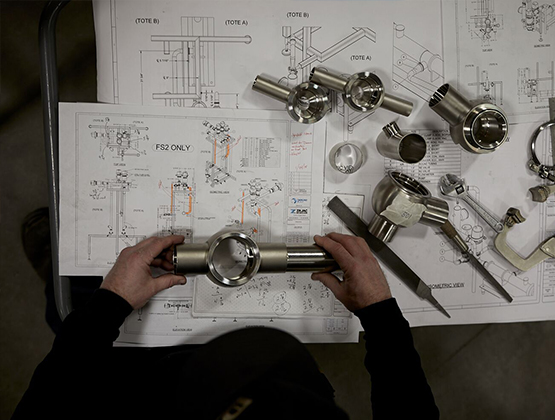 FABRICATION
Zajac prewired and prefabricated process modules are designed to meet your production and quality requirements while reducing your overall project costs and schedule. 
All systems are inspected by our in-house weld inspector certified by the American Welding Society. We follow strict quality guidelines and procedures that comply with the requirements set forth in the ASME BPE, ASME Section IX and ASME B31.3 Process Piping standards.
AUTOMATION
We provide complete automation and control systems integration. Zajac is a process integrator, and our automation department knows the quality, throughput and reliability requirements of your project. We work with leading software and hardware companies using GAMP-5 development methodologies to ensure a successful implementation of the latest automation technology.
PACKAGING
Zajac, LLC can service all your packaging equipment requirements from individual components to complete turnkey systems. We represent some of the finest packaging equipment manufacturers in the industry including an extensive list of Conveyor solutions.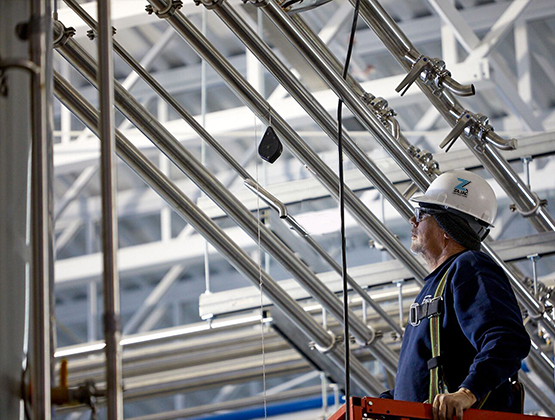 INSTALLATION
Our highly skilled project crews are capable of executing large scale projects such as ground-up new plant construction and expansions all across the country; day to day repairs and maintenance, also providing 24/7 emergency service in ME, NH, MA, VT, and CT.
SPECIALTY / CUSTOM PARTS
From high-volume waterjet cutting and plasma cutting services to numerical control machining and metal finishing, you'll find it all here at Zajac.
Bending & Folding Services, Plasma Cutting Services, Metal Sawing Services, Metal Shearing Services, Waterjet Cutting Services, 6 Axis Tube Cutting, Metal Punching services
ENGINEERING:
Preliminary Engineering & Budget Development
PFD and P&ID's
Equipment and Installation Specifications
Detail Design and RFQ Documentation
CAD Services & 3D Rendering
Project Management
Training
Preventive Maintenance
Start Up and Commissioning Support
AUTOMATION:
PLC and SCADA control systems
Data Historians
S88 Batch Automation Systems
GMP validated systems
Web Based Reporting
System Back Up and Documentation
Control Panel Design and Fabrication
FABRICATION FACILITY:
(5) Precision milled aluminum fabrication tables and workstations
Lathe and vertical mill for custom parts
Isolated grinding and polishing area
UL-508a electrical panel fabrication area
Inventory, inspection and project staging area
In-house AWS Certified Weld Inspector
10,300 Square Feet
PLANT SERVICES:
Process Piping
Utility Piping
Platform Design and Construction
Conveyor Installation
Tank Repair
Preventive Maintenance Services
Shut Down Support
Millwright Services
ELECTRICAL SERVICES:
Power Distribution
Control Wiring
PLC & Relay Logic
Interior and Exterior Lighting
Industrial Controls
Maintenance Services
Instrument Calibration
PREVENTATIVE & PARTS:
Pump Laser Alignment
Seal Replacement System
Elastomer Change-Over
Calibration
Valve and Pump Training
Part Sales
PACKAGING EQUIPMENT:
Depalletizers
Pallet Dispensers & Stackers
Unscramblers
Rinsers (can & bottle, interior & exterior)
Tank Repair
Preventive Maintenance Services
Shut Down Support
Millwright Services
Fillers
Coders
Cappers
Retorquers
Inspectors
Check Weighers
Labelers (can, bottle, case & pallet)
Tamper evident banders
Case packers
Carrier erectors
Case erectors
Sealers
Packers
Palletizers
Stretch wrappers
CONVEYORS:
Table Top
Mat Top
Cable
Air
Belt
MDR
Zero Pressure Accumulation
Live & Gravity Roller
Pallet